"Every girl wants to feel like a princess on her wedding day. You made that dream of mine come alive, and please know that I will be forever grateful. As I've told you probably 20 times, I never wear makeup. So the thought of wearing a full face of everything from foundation to lashes on my wedding day was nerve wracking at first. But after my first trial with you, I knew I had NOTHING to be worried about. You made me look like myself, but just a more glamorous version of myself. I loved my trial so much that I knew I needed to have you to my makeup for my bridal shower. Do you know how many compliments I received at my shower, and how many people told me I was crazy if I didn't recreate that look on my wedding day? And then on the most hot, humid and disgusting day of October, you came to my house at 7:30 with a smile on your face, ready to pamper myself, my 5 bridesmaids and my mom. Not only was your work gorgeous, but you were a bubbly, fun energy to have in the room while I prepared to marry the love of my life. I'm not exaggerating when I tell you that my makeup lasted all day long. Through the humidity, the sweaty night of dancing, and million kissing pictures that I took with my husband, I still looked an felt like a princess. I'm sad as I write this, knowing that know I won't have many more excuses to have you do my makeup. But I promise you that if ever I get the opportunity to get made up and feel like a princess again, you will be the first person I call. You are an amazing person with an amazing talent, and I am honored to have been one of your brides! Love, Megan"
"There are no words to describe how incredible Ashley was as the make up artist for my wedding. First of all she is the absolute sweetest person in the world! All the annoying and unnecessary times I reached out to her she always responded with helpful answers and went out of her way to help me and the women in my wedding. Now onto her talent. HOLY MOLY! Ashley is so incredibly talented! She did INCREDIBLE make up for 8 women in 5 hours. SHE WAS A ROCKSTAR! If you book with Ashley you will 100% not be disappointed in any way. THANK YOU ASHLEY!!!"
"Where to start?! Ashley is simply amazing, so sweet, and so kind! I can't say enough how much talent she has, I had amazing trials( all 3 because I couldn't decide on what type of look I wanted for my wedding- all 3 looks were beautiful!) when my wedding day came around she was prompt and there on time( even before me!) and she even stayed afterwords for some touch ups after my first look. Ashley became a friend to me and I loved all our talks during our trials! Out of any of my vendors I can recommend it would be her, all my girls loved their makeup and I got so many compliments on them, she is truly so talented:)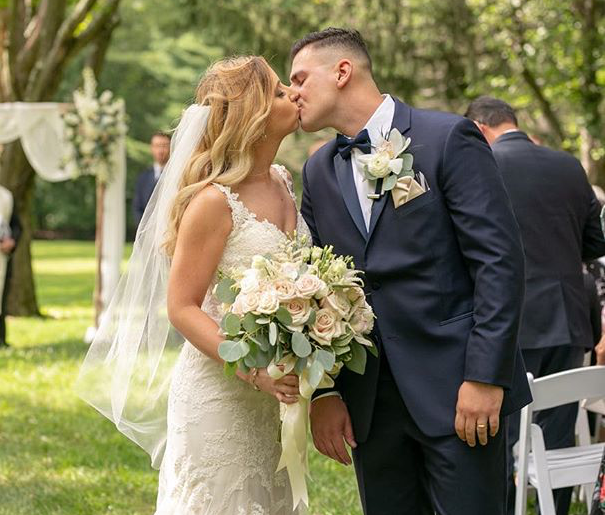 "Ashley did all the makeup for my July 2018 wedding and I cannot speak more highly of her quality of work! Ashley who is so incredibly sweet, professional and so talented was a dream to work with from start to finish. I have never felt more beautiful than that day! Look no further and email her right now to set up a trial— you will not be disappointed!"
"What more can I say..Ashley is incredible! I came across Ashley at a bridal show pretty much after I selected all of my vendors, including a potential makeup artist. I quickly looked through her portfolio and was extremely impressed. Luckily, Ashley lives right around the corner from me and I set up a trial. Right there I decided to hire her. It was the best decision I made. She helped me feel and look beautiful on the most important day of my life. She enhanced my bridesmaids beauty as well. We all received compliment after compliment on our makeup..Who did your makeup????? That's simple ..Ashley Landry..a naturally talented makeup artist who I would recommend to any future bride :)"
"Where to even start. Living in a different state and planning a wedding is crazy, but Ashley made it that much easier! For my trial She made sure she was available...then for my wedding day she made all my bridesmaids the definition of perfection. I had so many compliments on my makeup!! Everyone said I looked like a princess. I felt like one too! She applied makeup to 13 people that day, and yet every single one was beautiful! She does such a great job and is so personable & sweet."
"After two makeup trials with other MUA's, I remembered that I stumbled across Ashley's page a few months earlier. So glad I reached out, because she was absolute dream – so patient, fairly priced and HIGH QUALITY WORK. This girl is talented. You know how you usually go and get your hair or makeup done and then fuss with it yourself? Well, I didn't touch my makeup at all on my wedding day or for my bridal shower. It was done literally exactly the way I liked it, and it lasted all day/night (even into the next morning :). Ashley was always professional and pleasant every step of the way, and I would use her again in a heartbeat. My bridesmaids looked incredible and loved her as well. Thank you Ashley for helping make my day even more of a dream!"
"Ashley did an AMAZING job on my wedding makeup! Leading up to my wedding I met with Ashley a few times to do some trial looks. We got to play around with different ideas and looks and had a really great time. This made me feel really comfortable with her. She is so friendly and easy to deal with. I never felt bad telling her what I liked or didn't like. That was super important to me. The day of my wedding my makeup was FLAWLESS and exactly how I wanted it. I cannot even tell you how many complements I got! My makeup looked perfect at 3PM and at 11PM. It stayed on all night and continued to look flawless into the night. I would definitely recommend Ashley to do your makeup...she is wonderful and you will not regret it!! I wish I could use her everyday!
"Hire Ashley. It's as simple as that. Hiring Ashley for my wedding day was easily one of my best decisions in the planning process. Ashley is professional and easy to communicate with. She is sure to keep you updated throughout the process and even provides a timeline from the very beginning so I knew what to expect from her. Ashley is very personable, I had three sessions with Ashley and they weren't awkward at all. Ashley keeps the conversation going and makes you feel comfortable. Her prices are absolutely reasonable for the quality that she does. Ashley is trustworthy and reliable. We got so many compliments on our Makeup. I am so thankful to have found Ashley and will recommend her to everyone!
"Simply the best! I could not possibly be happier with our decision to have Ashley do makeup for my bridesmaids, MOB, MOG, and me. She is truly an artist and able to work on any skin tone and type--making everyone look simply amazing. As someone who does not normally wear much makeup, I was very concerned about looking overdone. Ashley managed to make the makeup pop in pictures while still looking natural and feeling light. I could not have felt more beautiful on my wedding day and I credit that to her. The only thing that matched her incredible skills were her professionalism and kindness. Thank you so much!!"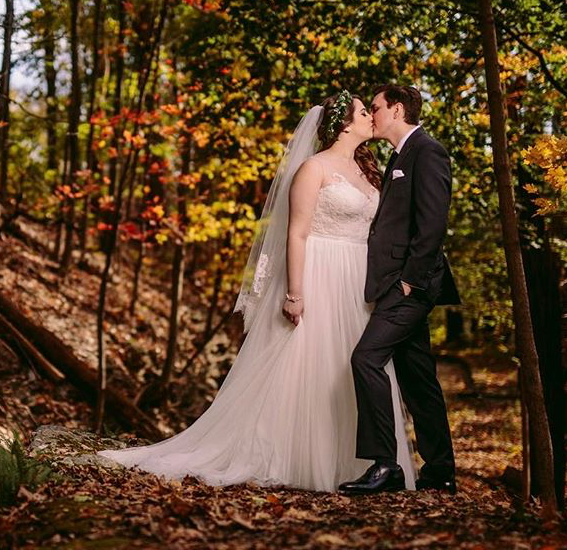 "Ashley is nothing short of amazing. Not only is she incredibly talented and professional, but she is an absolute joy to spend time with during what will no doubt be one of the most stressful times in your life. I am very particular with my makeup, and Ashley was incredibly patient with me throughout all of my nitpicking during my two trials. The results speak for themselves- my bridal party looked stunning and I looked exactly how I always pictured I would. Ashley, thank you so much for everything!!!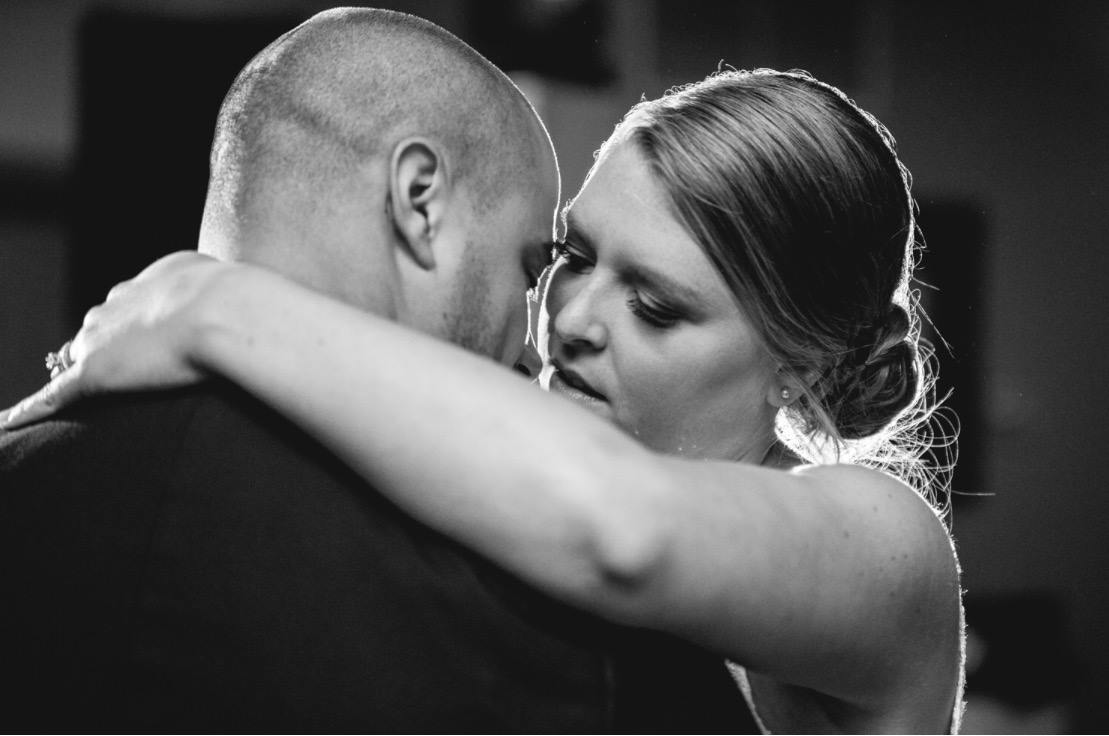 "I couldn't have picked a better makeup artist for my wedding! Ashley was incredible, kind, and she did my makeup better then I could ever imagine. Not only was I extremely satisfied, but so was my entire wedding party. Everyone looked stunning. If I could do it over again I wouldn't change a thing <3 I would recommend Ashley to every single bride!"
"Ashley did the makeup (and curled my hair because I'm helpless ha) for my engagement pictures, and if she was available for my wedding I would have had her do the makeup for myself and all of my girls! She put me right at ease as soon as I sat down, and I trusted her to do whatever she wanted! Of course, I showed her some inspiration on my phone, but other than that she was free to go with her choices. I LOVED my makeup, and felt so beautiful when I took my engagement pictures! I have a whole book printed out, and canvases in our home of the pictures, and whenever anyone asks who did my makeup I ALWAYS recommend Ashley!"
"Ashley Landry is THE best makeup artist around. First of all, she is one of the most professional vendors I dealt with during mt wedding planning. She reached out to me throughout the course of my wedding planning to check in and was always prompt in responding to my (sometimes frantic) emails and texts and was always flexible when there was a change in plans (which there was multiple times). And I can't even put into words how TALENTED she is. I have never seen my bridesmaids look more beautiful. Some of my girls rarely wear makeup and were scared to get their makeup done; however, Ashley did everyone's makeup within their comfort zone and the results were BEYOND all of our expectations. All 4 of us were shocked and in love with eachother's makeup-and our own!! Thank you Ashley for making me and my bridesmaids feel beautiful and confident for my wedding day. You are the Best!"
"Ashley is absolutely amazing at what she does. I felt so beautiful on my wedding day. She is so talented everyone commented on how beautiful my makeup looked. Aside from how amazing she is at makeup she has such a great personality. She is so kind hearted, and bubbly. Very easy to be around, she was just like another one of the girls as we got ready. I would recommend Ashley to do your makeup for any event, but especially your wedding. I know if I have another big event I will definitely be calling her.
"From beginning to end, Ashley is simply wonderful. During the initial moments of inquiring and seeing if she had my wedding date available, she was nothing short of amazing. Not only was she very informative and answering every question I had, but she did so HAPPILY. She loves what she does and has a gift for making her clients feel welcomed and comfortable. Fun little back story: When I met Ashley for my makeup trial, my skin was at its absolute worst. (I like to blame that phase on my autoimmune disease and enduring my fiancé's deployment all at once. Not a good mix. 😅) Sitting there barefaced and unable to hide my mess, I still felt SO comfortable due to Ashley's professionalism and overall bubbly personality. When she was finished, I couldn't believe how flawless my skin looked. All I remember saying is, "I feel like a person again." Fast forward to wedding day...my skin made a comeback and returned to its normal state (praise Jesus). I give all the credit for that to Ashley. Seeing what she was capable of with my skin in it's awful state during my trial relieved so much stress, and I was no longer panicking over whether or not it would clear up because I knew I was in excellent hands with Ashley's talent. She was MORE than accommodating - getting us ready in a tiny bridal suite with 3 little ones running around everywhere, and our makeup didn't budge all day in the SCORCHING sun. By far, one of my favorite parts of my entire wedding day was seeing my mother's reaction after Ashley had completed her makeup. The smile on her face is one I'll never forget. All of that is just to say how freaking AMAZING Ashley is. If anyone is looking for a makeup artist, you're welcome."
"Ashley was the absolute best. I can't say enough about her. She was so prompt with her responses whenever I had questions, flexible, and talented. A lot of my bridesmaids had never gotten their makeup done before and they were blown away. I was so impressed with how my makeup lasted all day (15 hours from start to finish). If you're looking for a make up artist, Ashely is worth every penny!"
"I am extremely particular with my makeup so when I came across Ashley's instagram, I knew I had to have her do my makeup. I had my trial and immediately told my best friend (who is always getting married) that she had to book Ashley for her wedding. She listens to you and doesn't just do whatever she wants - which was a problem with some of the other makeup artists I encountered. But if you don't know what you want, she will be able to create the perfect look. She enhances your beauty and doesn't try to make you look like someone else. Her technique is flawless. My whole bridal party looked amazing. On top of her talent, she is the biggest sweetheart and super down to earth. I'm looking forward to when my best friend gets married in August 2018 because as her Matron of Honor - I get to have Ashley do my makeup again! You are fabulous!"
"How do you even begin to describe 'Perfection' without being a gross understatement of the service that Ashley has provided to myself, my mother, mother-in-law, sister and my most important ladies on the day of my wedding! She was always so helpful, prompt and willing to answer any and all questions that we all had for process. When she did my makeup trial for the day of my bridal shower I joked with Ashley telling her she "Needed to use glue on my face to avoid the inevitable happy tears that were to come that day.." of course I didn't need to worry. I had so many compliments at my shower all of my guests commented on how perfect it was despite my happy tears throughout the event. I knew that my makeup would last the entire day/night of my wedding. As I knew she would, she brought her A-game her service was absolutely AMAZING I didn't have a worry in the world while she worked on me and was so beyond satisfied with the results. I cannot say enough good things about Ashley Landry and her makeup service, she is the Real Deal! I so look forward to the next event I can get my makeup done by Ashley. I highly recommend her to any and all soon-to-be Brides that want to feel like a QUEEN on the day of their wedding! Call Ashley she will NOT disappoint you!!
"Incredible. I wanted to start this review with a word that I know would capture your attention. From the first day I heard about Ashley I knew she was going to be the perfect person to have my make up done for my wedding. Ashley is passionate about what she does, takes the timeto really get to know her brides, and is so friendly!!! I had my original trial done with Ashley and then my mom and sister joined me for the second one closer to my wedding and they LOVED the way Ashley did their make up. There are pictures on Instagram to prove it ;) She is truly invested in this business and makes sure that her brides and the remaining wedding party are 110% happy. Ashley, the comments I get on everyones make up the day of my wedding are still coming in days later. Thank you for making me and my entire wedding party feel beautiful and flawless on the most memorable day of my life. You are the best!!!! <3
"After having a few makeup trials before my wedding and not being completely happy with any of them, I was referred to Ashley by a friend. I am so happy I reached out to her because my makeup as well as all of my bridesmaids makeup was PERFECT!! I definitely recommend Ashley to anyone who is looking to have their makeup done. Not only is she sweet, she is so talented!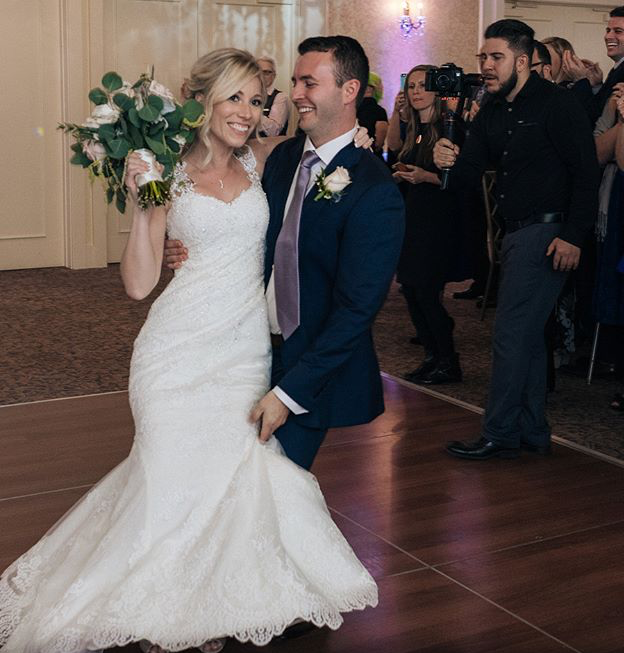 "Ashley is not only an amazing make-up artist, but one of the sweetest people you will ever meet! She is professional and accommodating! Leading up to the day of my wedding, I was nervous about being able to get makeup for 9 people done in 6 hours, but Ashley reassured me and delivered on the day of my wedding. All 9 of us looked absolutely beautiful, and we never felt rushed. Ashley was made me feel relaxed and confident that everything would go smoothly on our big day. She even stayed in a hotel nearby the night before to calm my nerves about her having to travel a long distance on the morning of the wedding. I am so glad that I decided to call Ashley. Working with her felt like working with an old friend, and I'd highly recommend her to anyone looking for the best! Not only did I feel beautiful, but I looked naturally and my makeup lasted the WHOLE DAY!!!! Thank you so much to Ashley for helping to make my day perfect!
"Ashley is AMAZING at what she does! I was blown away at my first trial and every time she has done my makeup after that. I felt so beautiful at my wedding and I have Ashley to thank for that! My bridal party has got to be the most difficult group of women to please. EVERYONE was in LOVE with their makeup! She literally had one of my bridesmaids jumping around like a giddy 5 year old on Christmas morning because she was so excited with how beautiful her makeup came out!! (I am not even exaggerating!) when Ashely finished the first bridesmaids makeup everyone was in awe! They put their pictures away and said I trust you to do whatever you want! Everyone look gorgeous! Oh and let's not forget, her pricing is unbeatable!! Not only does Ashley do amazing makeup, but she is also very sweet, professional, prompt and does her best not to laugh when she hears the stuff that comes out of our mouths! I would recommend Ashley to anyone! I had bridesmaids who wanted total glam and others who wanted more neutral, she did both. I have a mother who wanted to look 10 years younger, she did it, we were amazed! I will definitely use Ashley again in the future and I suggest you do too!"
"I was just beginning to search for makeup artists when at a food tasting event another bride recommended Ashley to me. I looked up her social media accounts and was visually impressed. The price range was fair for the work and it included false eyelashes. I reached out to Ashley and she was very kind, so I scheduled a makeup trial at her home for the day of my bridal shower. I brought a photo with me but honestly, the way she did my makeup was even better! I received many compliments on my makeup the day of my bridal shower. The makeup lasted all day and my shower was in August! Needless to say, I booked Ashley for my wedding day to my makeup, aunt's and my 5 bridesmaids makeup. Ashley traveled to my home and arrived on time, set up her makeup and worked so incredibly hard to have all of our makeup done in the requested time frame. She was very personable and calm. We all enjoyed her company as she listened to our requests and worked on our makeup. By the way, she is very, very gentle while putting on makeup! This is the first review I am writing for a vendor because I have nothing negative to say about this makeup artist. I just received some photographs back and not surprising, my makeup and bridesmaids' makeup looks flawless in the photos! I highly recommend Ashley Landry as a makeup artist for future brides.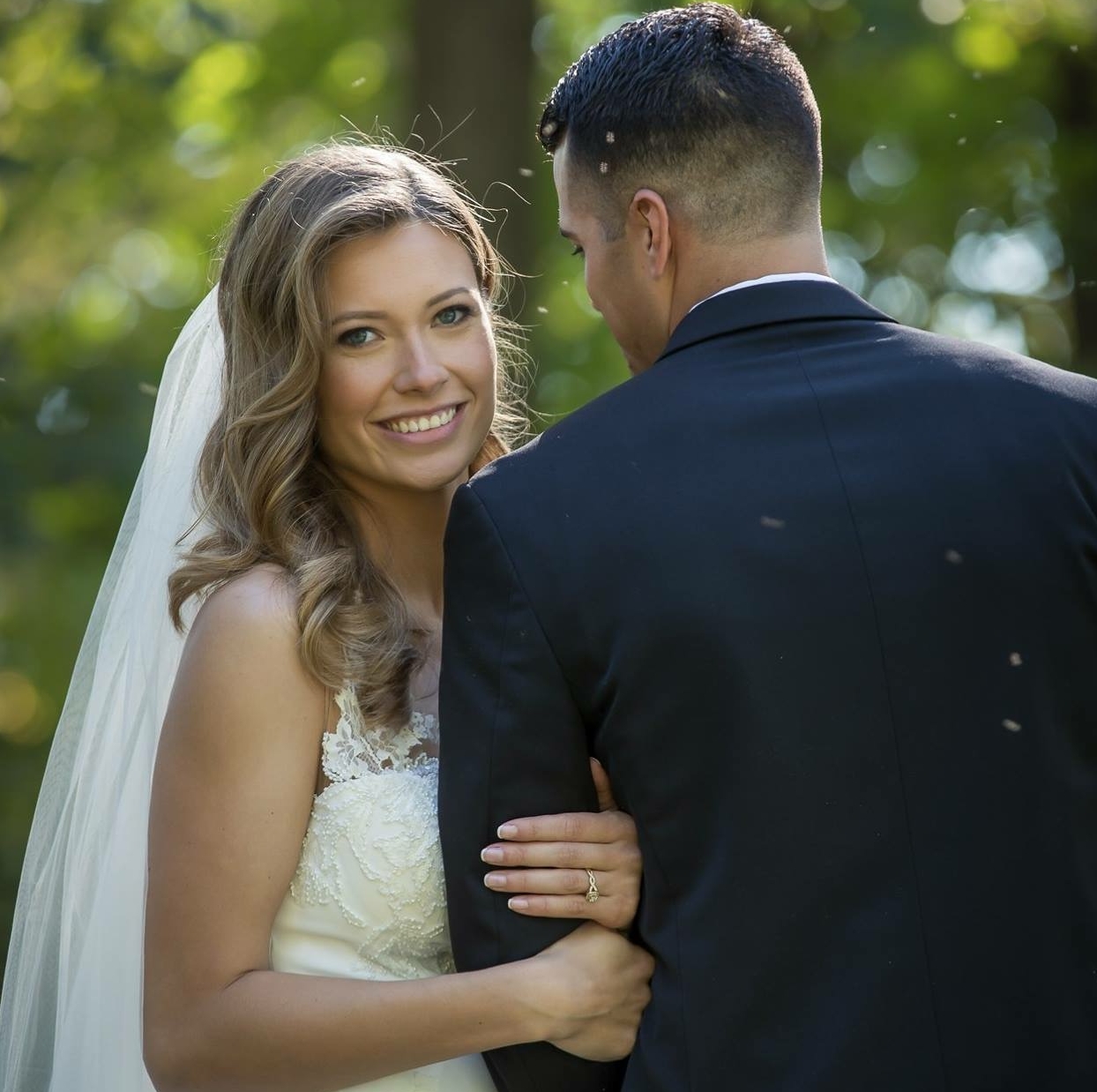 "Seriously THE BEST! I am extremely picky when it comes to makeup because I never wear it, so I didn't know what I liked or didn't like, all I knew was that I wanted a natural look. Something light and soft yet noticeable enough for pictures on my wedding day. And Ashley did just that! She listened, was patient with me, understood what I wanted and was so kind about everything. I even booked her for a few occasions I had after my trial with her. I always left feeling beautiful and my makeup always lasted the entire day sweating or not. She's the best and I highly recommend her and will continue to use her for any special occasions I have!! Thank you so so much Ashley!!
"There are so many ways I can describe just how wonderful Ashley has been. For starters, I have been following Ashley on social media for years. From the pictures of her own makeup to seeing how beautiful her brides look, I knew that when I got married I MUST have Ashley do my makeup. I first reached out to Ashley when I had an important event to attend. She was quick to respond and was so accommodating to my hectic schedule. When I arrived to her home to have my makeup done she was extremely friendly and had a HUGE makeup setup(large enough to cover a dining room table). I told her that I rarely wear makeup so I really wanted to feel pretty. When I looked in the mirror I could not believe how incredible I looked. My makeup held up during the entire event.... I even woke up looking fabulous. When I began planning my wedding I was instantly overwhelmed. I reached out to Ashley and asked if she could be my makeup artist for my engagement photo shoot and for mm and my entire bridal party for the wedding. She was quick to respond and made the process completely stress free. My engagement photo shoot makeup was just stunning. Even my photographer said how flawless and natural it looked in the pictures. On my wedding day Ashley showed up on time to the venue and began doing the bridal party makeup. As I watched my closest friends and family get their makeup done I saw how amazing the felt once they were done. Each one was blown away by how beautiful they looked. When it was time to get my makeup done I could not wait to see what I looked like. Ashley exceeded my expectations and made me feel more beautiful then I could have ever imagined."
"I want to feel beautiful..." those were the words I spoke to Ashley when I reached out to her to do my makeup for what was the biggest day of my entire life. I sent her so many picture ideas of what I thought might look nice and she helped me narrow it down and told me what would look beautiful with my color scheme. She left me with a ton of options so I never felt forced into anything. With what little I gave her direction wise our trial run ended up being a blast. Ashley made me feel comfortable the second she walked into my home and she was nothing but kind and friendly from the start. Ashley is a professional through and through she showed up bright and early as per my request and never once complained. She handled herself amazingly the day of with all the chaos going on around her. She was great with time management and keeping me calm while sitting in the makeup chair. I finally had a chance to breathe and actually enjoy the process Ashley was truly a breath of fresh air. My bridal party and I never felt rushed and she even stuck around until just before the ceremony to ensure that I looked beautiful throughout the event. The makeup she uses is all top quality and well known and liked brands that will be sure to last through a scorcher of a day (my outdoor wedding had heat, humidity, and even rain!!) and yet my makeup stayed flawless throughout. If you are looking to leave your husband at a loss for words when he sees you don't look any further. I promise you will be in great hands with Ashley.
"I cannot say enough about Ashley. She was amazing to work with for my wedding. My makeup was amazing as well as my bridal party and in laws! I continue to receive compliments on my makeup. She knows the perfect combo of the natural with a splash of wow to make your makeup perfect! My husband absolutely loved the way I looked on our wedding day! Ashley is amazing to work with before and on the day of wedding. Even when I was unsure of what I wanted she knew exactly what to do to make the makeup perfect! I would highly recommend Ashley for any special events you are attending and would 110% use her again in the future! Book Ashley, you will not regret it!
"What can I say about this beautiful talented lady?! She's amazing!!! When I first met Ashley at my wedding trial, she was super friendly and sweet! Her makeup is perfection. I had never had my makeup done professionally so I didn't know what to expect. When I first saw myself when my makeup was done during the trail, I was shocked how beautiful I looked. She knows how to enhance your beauty with make up and not cover your face with it. On my wedding day, it was no different. She made me and my maid of honor took stunning. (Thank you for traveling to my side of Jersey Ashley!!!) I would highly recommend her for any one who's looking for a makeup artist for any occasion!! XOXOXO"